Attractions for the whole Family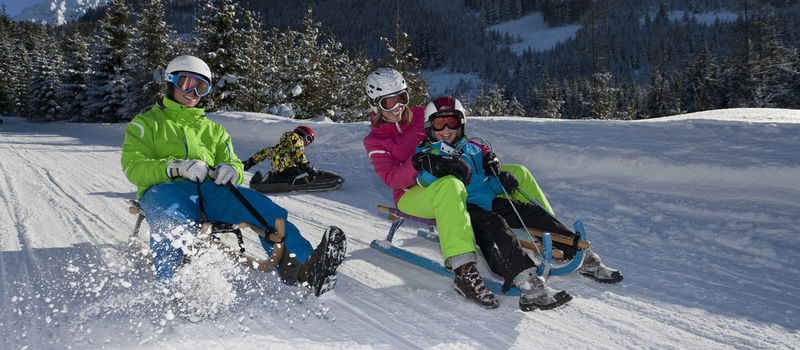 Toboggan Run Karkogel - Abtenau - 12 km
The 3 km long toboggan run in Abtenau is surely great fun. The gondola will bring you up on 1.187 m and then you can take the great downhill runn with your toboggan. On Tuesday, Friday and Saturday the toboggan run is light until 10.30 pm. The Gondola will operate from 6 - 8.30 pm. You can hire a toboggan directly at the valley station.

Snowtubing Monigold - St. Martin - 24 km
Great fun for young and old to experience snow, ice & speed safely as an absolute adventure. An approx. 250 m long lift takes you up to the departure points, then it goes downhill for approx. 350 - 400 m through the snow channel. You can alos try it at night on Tuesdays, Thursdays and Saturdays from 6 to 8 pm on the lit run.
More Information
Noch mehr Ausflugsziele für die ganze Familie
Cultural Towns and Places...
Hallstatt - 20 km

For thousands of years, this town at the lake attracts people. The uncomparable townscape is world renowned, an entire era of history was named after Hallstatt.

Bad Ischl - 32 km

The charming city of emperors with the summer residence of "Franz and Sissi", a hike on the "Katrin" lift, the luxurious villa of Franz Léhar or relaxation in the Spa "Eurothermen Resort". Tel +43 6132/277570
badischl.salzkammergut.at
More Cultural Towns and Places...

Bad Aussee - 35 km

The spa gardens, where once the saltpans were steaming, or through the shopping alleys, in which regional variety wins over international blandness. Handcraft is in the Ausserland as alive as hardly anywhere else. Tel +43 3622 540400
www.ausseerland.at

St. Wolfgang - 48 km

Home to the steepest steam-driven rack-railway of Austria. From St. Wolfgang onto the mountain Schafberg, and an enchanting town centre with the famous Hotel Weißes Rössl.
Tel +43 6138 8003 – www.wolfgangsee.at

Salzburg - 56 km

The highlights of the city include the castle Hellbrunn with it's trick fountains, the Zoo Salzburg, the gardens of the Mirabell castle, the historical center with Mozart's birthplace and naturally the Fortress Hohen Salzburg.
Tel +43 662 88987-0
www.salzburg.info
Spas - Swimming Pools - Saunas

Aqua Salza - Golling - 27 km

Young and old both have their place to swim, dive, have fun and relax here. The modern SPA offers six different saunas and 2 stean baths for recovery, relaxation and regeneration of body and mind - massages, facial Ayurveda treatments and peelings included.
More Information
Even more SPAs, Swimming Pools, and Saunas
Museums - Open Air Museums - Alpine Gardens

Fossil Museum Russbach - 0 km

Fossil archive well looked after by Prof. Dr. Fritz Seewald. Visitation possible during the opening hours of the tourist information office Russbach.
More Information
Even more Museums

The House of 1000 Stones in Russbach - 0 km

Every Wednesday you can admire the mineral- and fossil exhibition from all over the world by Wolfgang and Norbert Schwaighofer. On Wednesdays from 4 to 7 pm or with registration by phone. Wolfgang and Norbert Schwaighofer
Tel. +43 664 1904849
more Information

Museum of Local History Schmiedbauern Gosau - 10 km
Outdoor Museum in the Gosauer Hintertal surrounding the Local History of Gosau.
www.dachstein-salzkammergut.at

Museum of Local History Arlerhof - 12 km

In a part of Abtenau called "Au" near the foot of the Tennengebirge mountains. The museum shows a farmhouse typical of the Lammertal valley of pre-industrial times. Tel +43 664 1136003
www.museum-abtenau.at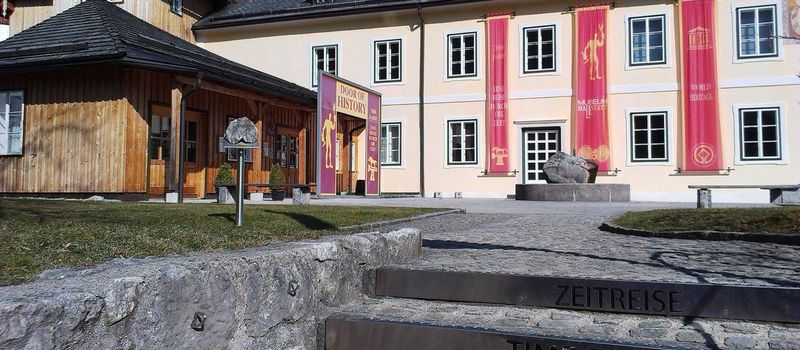 World Heritage Museum Hallstatt – 20 km

Discover the 7.000 year old history of salt mining, the celts and Hallstatt.
Tel. +43 6134 828015
www.museum-hallstatt.at

Ossuary Hallstatt – 20 km

Exceptional collection of over 600 artfully painted skulls, this type of tomb was adapted due to a shortage of space in Hallstatt and is unique.

Hand.Werk.Haus. Bad Goisern - 23km

Masterful crafting is unique and presented here in a permanent exhibition.
Tel +43 6135 50800
www.handwerkhaus.at

Fortress Golling - 30km

The fortress Golling focuses on the natural and cultural history of Golling as well as the surrounding valley- and mountainscapes.
www.burg-golling.at

Keltenmuseum/Museum of Celts Hallein - 40km

One of the biggest and most important museums of celtic history in all of Europe, located in the former salt works administration building.
Tel +43 6245 80783
www.keltenmuseum.at

Silent Night Museum Hallein - 40km

In the former home of composer Franz Xaver Gruber, the Stille Nacht Museum informs of the creation and spread of the famous christmas song "Stille Nacht! Heilige Nacht" ("Silent Night, Holy Night")
Tel +43 6245 85394
www.hallein.com

Trick fountains and palace Hellbrunn - 50km

The world famous trick fountains are unique and have been barely changed in the 400 years since it's creation.
Tel +43 622 8203720
www.hellbrunn.at

Haus der Natur Salzburg - 60km

The house of nature is one of the most popular natural history museums of mid-europe with a world of wonders, one of the most beautiful aquariums of europe, the spectacular reptile zoo, the giants of the primeval world, and more.
Tel +43 662 842653-0
www.hausdernatur.at

Stiegl´s Brauwelt - 62km

Learn everything you've always wanted to know about the cultural beverage beer at our beer experience world - and even a little more.
Tel +43 662 83871492
www.brauwelt.at/en
Cheeseries and culinary Destinations

Wine Shop & Degustation Kerschbaumer in Russbach - 0 km

Lovingly decorated with shelves made of maple wood and a cozy table, to give a suitable location to the passion for wine and sociability. There are about 2000 bottles of wine waiting for a relaxing wine tasting. Tel. +43 6242 379
www.kerschbaumer.at
Even more culinary destinations
Tourist benefit- and discount cards...
Tennengau+ Card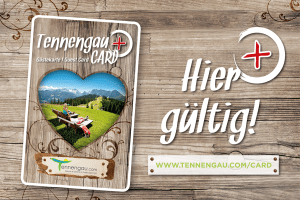 Services of the TennengauPLUS-Card for Russbach's guests
Validity
The TennengauPLUS Card distinguishes you as our guest and will be given to you for free by your host after a legally required registration has taken place.It is valid for the duration of your stay. It is not transferable!
SalzburgerLand Card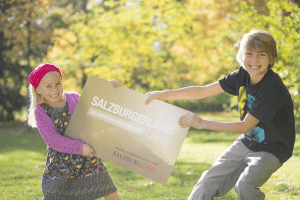 About 190 Attractions for a fixed Price
Lifts, diverse museums and destinations. Starting at 6 days including a 24 hours Salzburg-Card.
With the SalzburgerLand Card you will additionally to the TennengauPLUS-Card profit from free entry and discounts in and outside of the region Tennengau. A total of 190 attractions guarantee a cheap program for all types of weather from May 1st to the 26th of October. You can aquire your SalzburgerLand Card in almost all tourist information offices in the Tennengau and online.
Even more destinations ...
Destinations in the Salzkammergut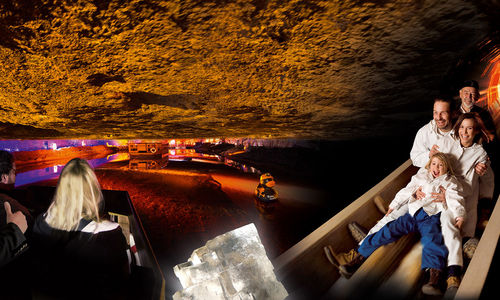 Destinations in the Salzkammergut
Here you can find a list of all the Destinations in the Salzkammergut.
The regions
Wolfgangsee
Dachstein Salzkammergut
Bad Ischl
border on Russbach.
More close-by regions
Ausseerland
Fuschlseeregion
Mondsee
Attersee
Traunsee
Destinations in the SalzburgerLand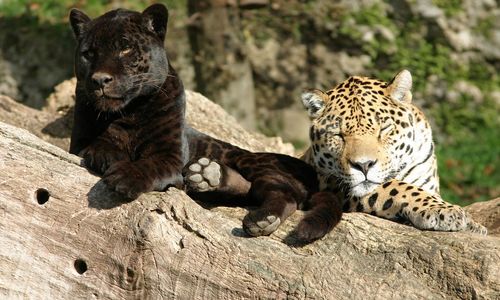 Destinations in the SalzburgerLand

Here you can find more destinations in the Tennengau and the SalzburgerLand.
The city Salzburg is only an hour in the car away.
Radstadt, Filzmoos, Werfen... are about 40 minutes away.